I absolutely love home design, it's something that I've thought about doing as a consultant many times before. When we bought our condo in 2013, we totally re-did the inside, transforming it from beat-up and rundown to luxurious and glamorous. I posted about it on Houzz back in 2015 and they ended up picking it up and writing an article about our kitchen transformation, which was really cool. You can read the article here, stalk the sad before photos here, and the fabulous after photos here.
Kitchen Before:
I can't even with this photo. I still can't believe that this was our kitchen when we moved in!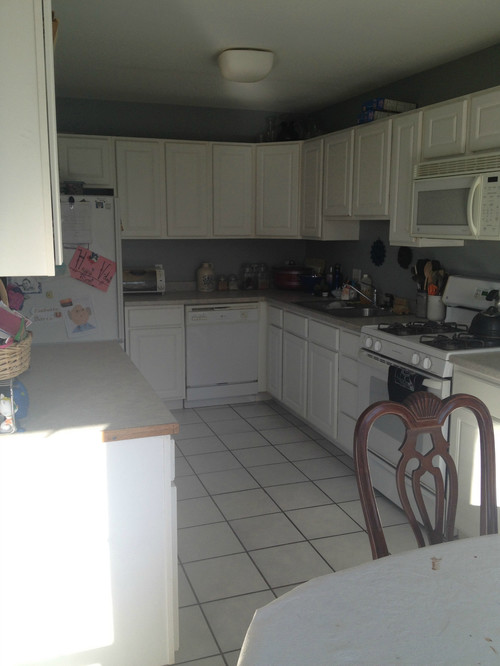 Kitchen After:
Can you believe that these are the same cabinets?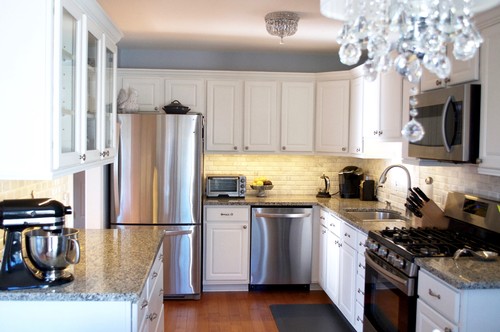 Building and designing your own home is a very personal and creative process. I am lucky that Mike and I have very similar tastes and that he trusts my vision. I always ask for his opinion during the process. We have a good check and balance, you know, just in case I get a little too girly or trendy.
The Creative Process
My creative process consists of curating what I like, editing down my selections, and then taking little pieces from everything to create something unique. I literally can't decide if I am going to like the way something looks unless I have a photo of it in front of me, then it's really easy for me to visualize what it will look like in real life. So, that's why this process works for me – because I am a very visual person and I can't just create an image in my mind from nothing. My mind will literally be black until I see a photo and then I can imagine all of the possibilities.
First, I curate what I like. I find inspiration on Houzz; swiping through photos and saving them to a curated album. I start really broad and just save anything and everything that looks good to me, whether it's the color of the floor or the layout of the furniture in the room. There's always a few things that I like about a photo and I make sure to add those notes in the photo's comments for later.
Second, I edit down my selections. I go to the album that I created and I look for themes throughout all of the photos. What is it that I keep saving to my album? What keeps catching my eye? It's important to be very specific about color themes so that you don't end up with an eclectic looking home. Personally, it drives me nuts if someone mixes too many color tones within one space.
Third, I piece it all together. I pay attention to my comments and the details that I liked from each photo, such as hardware colors, door knobs, tile colors, lighting fixtures, etc. You literally have to think about every detail down to the shape of your door handles: knobs? levers? something more decorative? bronze? brushed nickel? So many decisions!!
In the coming weeks, I'm going to share the creative process for each room that we had to design. I hope that it inspires you and gives you ideas for your own home! But before I go, I will leave you with a sneak peek of some colors we chose.